Do you cheer when YOU cross the finish line?
Do you cheer when YOU cross the finish line?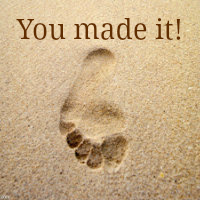 If you read my previous post, you'll know we were getting set to talk about The Four Agreements, starting today. It is a book that has the potential to transform your life, and breaking down each of the agreements seemed like the next thing on my horizon.
That was the plan. But I got to thinking about the commitments we complete. About how we make a commitment or take on a challenge, and when we finish — we actually cross the finish line and complete it — we just go right on like nothing happened. But it did! So …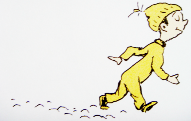 "You have brains in your head. You have feet in your shoes. You can steer yourself any direction you choose. You're on your own. And you know what you know. And YOU are the one who'll decide where to go…"
                                     ― Dr. Seuss, Oh, The Places You'll Go!
Brains? Check. Feet? Check. Decide? Check! We're talking about this today.
It's easy to blow past the things we do without so much as giving ourselves a pat on the back, without saying "well done" or "good for you". I wonder why this is. Maybe we just take ourselves for granted and don't feel the need.
I want to tell you: keeping a commitment is A BIG DEAL. Even if the commitment was made only to yourself, it's still a big deal. It's worth mentioning. It's worth talking about if only to tell yourself that you did it. You made it. Woo-hoo!
I have just completed two such things myself.
On February 2, I took on a 21-Day Blog Challenge. Some days, I didn't want to do it. I didn't know what to write about, or if I did know, it didn't seem as juicy and interesting as it did when I first thought of it. Some days or rather some nights, the post was completed and published at 11:58PM. That's ok. It was still published on the specified day. Oh, the sweet satisfaction of completion!
21 days. 21 blog posts. Yay for me! Wow! I did it!
On January 15, I committed to a 40-day meditation adventure called Winter Feast for the Soul. For all but three days, I meditated for at least 40 minutes a day; on the other three days, it was for 10-20 minutes. Most days I sat first thing in the morning; other days, it was right before bed. That's ok. I still meditated on the specified day. This one was even sweeter because I so cherish the silence and stillness of meditation.
40 days. 40 meditations. Yay for me! Woo-hoo! I did it!
When you take on a challenge or commitment, it takes time, focus, and effort. The challenge doesn't complete itself. You do it. And when you get to the end, to the last day, it's only right that you should acknowledge it in some way. You may not feel the need to tell the world or tell anyone, but honor it. Doing so is not prideful. It is not selfish. It is being kind and appreciative toward your self.
Heaven knows most of us could stand to be a little kinder to ourselves. I hope you'll at least think about it.
Tomorrow we may go back to The Four Agreements. We'll see what happens. We may talk more about how we move from challenge to completion. It's a process worth looking at. We'll see.
Brains. Check. Feet. Check. Decide. I get to. Check back tomorrow to see the place we will go.
What have you accomplished lately and not taken time to say "Wow, look what I did"?
Cheering you on,
Steph
– – – – – – – – – – – – –
If you are in the midst of working through a challenge or commitment, let me know about it. I'd love to encourage you along the way. Tell me about it in the comments below.

 © 2015 | Steph Marks | All international rights reserved.